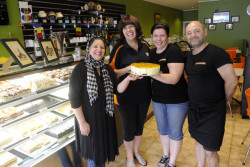 By CAM LUCADOU-WELLS
JUST getting that first foot in the door can make the difference.
Hallam eatery Cafe Transylvania offered a priceless opportunity for job seeker Samina to learn the kitchen's ropes, train as a barista and earn a wage under a disability employment program.
She has proved a godsend for the fledgling cafe's owners Ion and Ionela Maroti, who were overworked and gasping for a helping hand.
During her three-month placement, Samina has impressed the owners as she's served food, cleaned floors and helped prepare the highly-reputed Romanian sausages, cabbage rolls and profieroles.
Mr Maroti, who crossed the world from Romania to start the business, said he was happy to give Samina a chance.
"I've heard some employers take advantage of disabled workers. We try to be as one with them," he explained.
"When you think about it nobody is 100 per cent fit, and nobody gives them a chance. We try to help."
Samina had also injected some diversity, some non-Romanian culture, into the cafe.
"It's been good for her self-confidence; good help for her and a help for us," Mr Maroti said.
Since then, the cafe is seeking another trainee barista from the same jobs program.
Samina was part of a Dandenong Valley Job Service program, which has placed thousands of clients in work in Melbourne's east and south-east since 1993.
It offers a wage subsidy and free training for each client taken on by an employer.
DVJS business development executive Melanie Bray said the service's high reputation was shown by its masses of return business.
Many bosses are won over by the clients' hunger for learning and hard work.
"The good thing is employers can trust us, that we'll get it right when we match a client to them."
Sometimes it's hard to convince employers to hire their clients, whose disabilities include mild intellectual disabilities, physical injuries, mental illness and recovering from cancer.
Cafes, for example, are spoilt for choice for new employees. Rarely would they opt for a person with a disability over a similarly qualified so-called able-bodied person.
Facing that discrimination, it takes a lot of courage for clients to keep applying for jobs.
Ms Bray says her agency allows clients to try out for work without the trauma of competing with anyone else.
Often they then gain the confidence to apply and win another job.
In March, the service offers a full wage subsidy for six months to employers, who take on a client for eight hours a week.
For details, call DVJS on 1300 385 738.