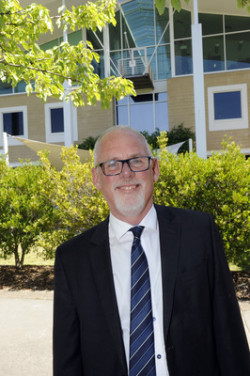 RESIDENTS of the City of Casey and Cardinia shires are set to benefit from a new generation of local tertiary education with Federation University Australia receiving Federal Government approval to offer courses at Berwick next year.
It follows the July announcement that FedUni will take over Monash University's Berwick Campus. A transition period next year will see both institutions teach from the site, prior to FedUni assuming full responsibility for the campus in 2018.
Government approval paves the way for FedUni to deliver 16 courses at Berwick next year, including business, community welfare, education, nursing, IT and science degrees.
Professor Andy Smith, Acting Vice-Chancellor, said it was exciting to have the Berwick Campus join Federation University Australia, given the enormous opportunities in the region.
"We appreciate the area is one of the fastest growing in Australia and we're focused on supporting the local community and producing job-ready graduates," Professor Smith said.
"The university is committed to working with local businesses and industry to boost the economic potential of the region and ensure our programs meet the area's needs."
Among the initiatives to be implemented at the Berwick Campus is FedUni's Industry Placement Program. The program provides a unique opportunity for businesses to tap into the next generation of employees, while enhancing students' academic studies with workplace experience.
The Industry Placement Program at Berwick is available in the study areas of business, IT and science, and ensures students who don't already have compulsory practical placement within their degree (such as nursing and education) have the opportunity to gain valuable experience.
Student support is also a major focus at FedUni, including comprehensive pathway and transition support programs, as well as a commitment to student wellbeing.
In addition, the national Quality Indicators for Learning and Teaching (QILT) survey – which is endorsed by the Department of Education and Training – have ranked FedUni as number one in Victoria for teaching quality, student support, skills development, full-time employment and median salary.
"We stand proud of the excellent employment prospects and careers of our graduates and look forward to welcoming the next generation of FedUni students to the Berwick Campus," Professor Smith said.
"Federation University Australia will build on the great work Monash has done at Berwick and maintain a strong and vibrant campus."
Although Federation University Australia is a new tertiary institution, it is based on a proud 146-year history of predecessor institutions, providing tertiary education in Western Victoria and Gippsland. FedUni has seen significant annual increases in higher education student numbers since its inception in 2014.
The courses FedUni will deliver at the Berwick Campus in 2017 are:
Bachelor of Business
Bachelor of Business (Marketing)
Bachelor of Business (Human Resource Management)
Bachelor of Commerce
Bachelor of Commerce (Accounting)
Bachelor of Community and Human Services
Bachelor of Education (Birth to Year 6)
Bachelor of Education (Primary)
Bachelor of Education Studies
Bachelor of Environmental and Conservation Science
Bachelor of Information Technology
Bachelor of Information Technology (Business Information Systems)
Bachelor of Information Technology (Mobile App Development)
Bachelor of Nursing
Bachelor of Nursing (Accelerated Program)
Bachelor of Veterinary and Wildlife Science
To learn more about studying at FedUni Berwick, call 1800 333 864 or email info@federation.edu.au.