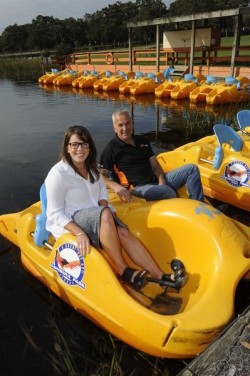 THE founders of Carsales.com and Jayco Caravans have joined forces with Pakenham's Car Megamart founder and a few mates to secure popular Tynong amusement park Gumbuya Park for $4.65 million.
The investor consortium – comprising Gerry Ryan of Jayco Caravans, Wal Pisciotta of Carsales.com.au, Car Megamart's Ray Weinzierl, Jamie Johnston and Adam Campbell and Brett Murray from Campbells Constructions – acquired the iconic park, which has been operating since 1978, and have plans to undertake a major revamp of the venue.
The park features more than 300 animals with numerous species of wildlife including dingoes, cockatoos, wombats, koalas, emus and various native Australian birds.
The 166.26 hectare Gumbuya Park also features several rides and attractions including paddle boats, mini cars, waterslides, pony rides, a mini golf course and toboggans.
CBRE's David Minty, Stephen Adgemis, Duncan McCulloch and James Beer managed the sale on behalf of the vendor.
Mr Minty said the incoming owners planned to inject new life into the much loved park, which is located just outside Pakenham.
"The buyers will look to introduce new attractions and some accommodation, helping bring the park back to its former glory," Mr Minty said.
"A change of hands of this iconic park will ensure it remains one of Melbourne's most popular, small-scale amusement parks, frequented by both local residents and interstate visitors."
Gumbuya Park is located on the Princes Highway, just outside of Tynong and approximately 66 kilometres from Melbourne's CBD.
It was established in 1978 by Standard Roads founder Ron Rado.