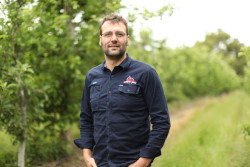 Nick Russo is the third generation of the Russo family to run Bellevue Orchard at Officer.
When a hailstorm devastated the orchard in 1998, the Russos responded by installing an apple juicing plant to wring some value from the damaged fruit. Their Summer Snow sparkling pink lady apple juice is an award winning drink which has gained traction in the competitive beverage market. Nick shares the secrets of his business success with Grow.
Describe a typical working day?
My role at Bellevue is varied so each day does not necessarily follow a regular structure. Managing finances is a big part of my job, from managing cash flow, deciding how to fund any capital projects, quoting as well as exploring the feasibility of the next round of business expansion or product development.
I also write the custom designed software that is used to run the plant, develop our website and any other artwork (labels, posters, flyers, calendars, cartons) that is used to promote Summer Snow and Bellevue Orchard.
Attending regular board of management and sales meetings also takes up a considerable amount of time. Those tasks alone fill a day!
What are your impressions of the Casey Cardinia region from a business perspective?
The first thing that springs to mind when thinking about the Casey Cardinia region is the rapid growth that we have experienced over the last 15 plus years, but from a business point of view I think that one of the biggest advantages we have in this region is that we have an agricultural business that is in such close proximity to Melbourne, one of Australia's biggest and most progressive cities.
What has been your biggest career success to date?
My professional life has had many facets. When I was working in design and animation I think a career highlight was when I was asked to present one of my animations at the Melbourne Art Centre.
Winning Best New Non-alcoholic Beverage at this Year's Food Magazine Awards in Sydney, however, was a thrill To take a brand new product to that level was exciting.
What has been your biggest career failure to date?
Years ago I worked on several software and business products with an associate that promised a bright future but ended up not going anywhere.
What did you learn from that experience?
Not realising this earlier and persisting for over five years without any assurance of my future was a big mistake.
I learned that working with people I trust and with people that all have the same goals is one of the most important things for a fulfilling career.
If you had to invite five people to a business luncheon, who would they be and why?
As an Apple user for over 25 years I would have to say that I would like to have lunch with Steve Jobs.
I admire Apple's attention to detail and their ability to continually push the limits of their products.
I listen to some podcasts around productivity and technology, two of the personalities from my favourite shows are John Siracusa and Merlin Mann.
I think they would provide very interesting insights – particularly if they were at the table with Steve Jobs.
Whilst I haven't followed Elon Musk's career closely, I do admire the way he is trying to revolutionise the automotive and power industries and think he would have some great forward looking business commentary. For the fifth person I think it would be interesting to talk with a famous scientist or inventor whose discoveries have contributed to some of the big jumps in technology we have experienced.
I am thinking of someone like Nikola Tesla, Albert Einstein or Alexander Graham Bell.
If not one of them then I think it would be good to have Ricky Gervais, because everyone needs a laugh from time to time.
How do you relax away from work?
I have two young children and I like to take them camping or to the beach.
I also have a lifestyle property that takes a bit of work to maintain and spending time with the kids at home is my preferred way to unwind.
I have some nice camera gear and I like to take and edit photos.
Often, however, in the evenings over a cup of tea I find myself working on non-critical features of the Bellevue Orchard management software which has led to some exciting and very useful tools at work.
Tell us something most people would not know about you?
I am very sentimental about some things, and I have boxes of old T-shirts going back to the mid '90s.
Mostly T-shirts of my favourite bands or T-shirts that I have bought while traveling.
Most of them are worn out or are now too small for me, but I can't bring myself to throw them out. The collection includes quite a number of Midnight Oil shirts.
What is your business mantra?
I would have to say "consistent, small, incremental upgrades" would be a motto I have towards business.
It is the approach we have at Bellevue and I think that while we have, at times, thought to ourselves 'we should have put the big one in first', and in hindsight that may have been more efficient, I think that having a good sound knowledge of equipment and processes and a good solid business case for each item means that we are consistently taking steps in the right direction.
Each step is manageable (both financially and in practice), and gives us flexibility to change direction if some things don't turn out as well as we would have expected.
It is a way of ensuring sustainable growth.