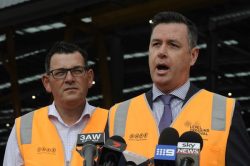 By Bonny Burrows
A boom in construction jobs is observed in Pakenham and its surrounds, thanks to two multi-million dollar rail depots.
A massive purpose-built factory on Pakenham's Greenhills Road has hit peak production and 200 local concretors, steel fixers, welders and plant operators are busy at work creating concrete segments for the state's Caulfield to Dandenong Level Crossing Removal Project.
At a cost of $1.6 billion, the project will see the removal of nine local level crossings and the construction of five new stations.
It's a project typically contracted out to national industry big wigs, but with a State Government commitment the project will use at least 92 per cent local content. Industry and Employment Minister Wade Noonan insisted the jobs were staying here.
"By setting strict requirements for local content on major projects, and putting more apprentices and trainees into work, we're making sure Victorians reap the benefits of our investments," Mr Noonan said.
It's a boost any community would welcome, and the Pakenham community certainly has, but the jobs don't end there.
Another major rail depot under construction in Kooweerup is expected to create 400 jobs at its peak and another 100 ongoing local jobs on completion, with a particular focus on those struggling to find work.
The Pakenham East Train Depot will include a maintenance facility, high-tech simulator and stabling for up to 30 of the state's new High-Capacity Metro Trains (HCMT).
Described as a huge win for local employment and rail service, the factory will be built with 87 per cent local materials.
Even better for the local community is a promise its workforce will comprise 15 per cent apprentices and trainees and 7 per cent of employees will be from low-socioeconomic backgrounds.
Member for Eastern Victoria Daniel Mulino said the project would support "bigger trains and better services" right along the Cranbourne line.
"It will provide work, skills and opportunities for hundreds of people and help thousands more get home safer and sooner," Mr Mulino said.
Premier Daniel Andrews said more jobs would also be up for grabs with the extension of platforms at 18 stations along the Cranbourne-Pakenham line, benefiting commuters and workers alike.
"This isn't just good news for drivers and public transport users, it's great news for Victorian workers and industries," Mr Andrews said.