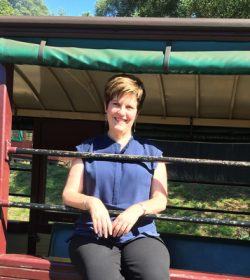 Nadine Hutchins is the marketing manager for Puffing Billy Railway. It is her job to promote the iconic tourist attraction at home and abroad. Nadine shares her working day and how she likes to let off steam away from the office.
Describe a typical working day?
No day is the same. It will be a combination of internal and external meetings, report writing, heaps of time responding to emails, hosting tour operators and film crews and of course keeping abreast of all Puffing Billy's marketing and event developments. I'm also involved in various tourism groups such as Chair of the Casey Cardinia Tourism Advisory Committee, Chair of Casey Cardinia Tourism as well as a member of the Attractions Policy Committee for the Victoria Tourism Industry Council, hence all the meetings!
What are your impressions of the Casey Cardinia Region from a business perspective?
Dynamic – with 12 families per day moving into the Casey Cardinia Region it opens up so many opportunities for businesses. I'm excited seeing these figures because all the people living in the Casey Cardinia region will be looking for things to do during their leisure time, especially when they have family and friends visiting them. If we can convince them to visit local businesses and attractions it will grow our businesses and create additional jobs in the region.
What has been your biggest career success to date?
I don't have a 'biggest' career success really … just lots of 'wins' along the way. Something that I am very proud of is the growth in passenger numbers at Puffing Billy since becoming marketing manager in 2008. In my first year 250,500 passengers travelled on Puffing Billy compared to 417,155 in the 2015-'16 FY – that's an increase of 66 per cent. This financial year we're expecting 470,000 which would be an 87 per cent increase from when I first started. The challenge now is making sure we can cater to this increased demand and ensure everyone goes home with a smile on their face!
What has been your biggest career failure to date?
Returning to the same role that I'd resigned from. Early in my career I left my job to go overseas backpacking for two years, returned with no money and was offered my old position back. Although it was great to work with my colleagues again, the actual role wasn't challenging any more … I'd grown so much during those two years away and really should have taken on something more challenging upon my return.
What did you learn from that experience?
Once you resign from a position – don't go back!
If you had to invite five people to a business luncheon, who would they be and why?
Victorian Premier Daniel Andrews, Victorian treasurer Tim Pallas, Victorian Minister for Tourism and Major Events John Eren, Monbulk MP and Deputy Premier James Merlino and Minister for Regional Development Jaala Pulford.
Puffing Billy Railway has just completed our master plan which has been developed to guide the railway into the future. It contains projects that will allow the railway to accommodate visitor demand, improve the overall visitor experience, generate revenue to support the ongoing sustainability of the railway, upgrade existing infrastructure and improve facilities.
The total master plan projects are costed at $78 million over a 10-year period. It will create 270 additional jobs and generate additional economic capture of $19 million. As a result the railway has submitted a request for funding in the 2017-'18 Victorian budget – hence selecting these Victorian ministers to have lunch with!
How do you relax away from work?
I love taking long walks with my husband and our dog to one of the amazing cafes in Emerald and having a leisurely brunch!
Tell us something most people would not know about you?
I went skydiving in Africa and survived to tell the tale!
What is your business mantra?
Do not become complacent – you need to keep questioning and challenging what you do, why you do it and how it can be improved.