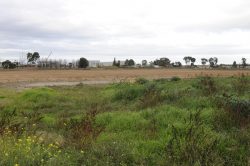 Transportation equipment group CIMC Vehicle Australia and road tanker manufacturer Marshall Lethlean will combine their south-east Melbourne operations after striking one of the first major pre-leases in the emerging Cranbourne West industrial precinct.
The two businesses have committed to relocate from nearby sites in Dandenong South to a state-of-the-art 13,290sqm truck and trailer manufacturing facility.
CBRE's David Aiello and James Jorgensen negotiated the 12-year pre-lease on behalf of private developer Chadwick Investments.
The deal will deliver CIMC and Marshall Lethlean a major new facility on five hectares of land at 490-500 Western Port Highway.
The site falls within the Cranbourne West Employment Precinct in the City of Casey.
Over the long term, this 445-hectare employment precinct will provide diverse employment opportunities for Cranbourne, Casey and the wider sub-region, with the potential to accommodate small and medium businesses, mixed-use office developments and manufacturing.
Mr Aiello said the CIMC/Marshall Lethlean deal was a significant milestone and one that highlighted the appeal of the Cranbourne West precinct to major occupiers.
The commencing rental will be excess of $1million net per annum.
"To date, most developments in the precinct have involved industrial land subdivisions targeted at small owner occupiers and local developers," Mr Aiello said.
"CIMC and Marshall Lethlean's commitment highlights the area's appeal to larger users who recognise that Western Port Highway is positioned to one day become one of the main industrial arterials in Melbourne's south-east, providing direct access to the Port of Hastings."
The new Cranbourne West facility will include 16 cranes and 25,000sqm of hardstand – providing parking for 200 trucks and 150 cars.
There is also two hectares of future expansion land to accommodate CIMC and Marshall Lethlean's future growth requirements.
Chadwick Investments principal Chris Chadwick said CIMC and Marshall Lethlean's long-term commitment to both local manufacturing and servicing the Australian transport industry well into the future had been a key attraction in securing the lease commitment.
"They had a very clear mandate to build a best-in-class facility, which we thought was not only ideally suited to our landholding but something we were excited to develop and own long-term," Mr Chadwick said.
CIMC Vehicle Australia designs, manufactures and distributes transportation equipment for the Australian transport logistics sector while sister company Marshall Lethlean is Australia's premier manufacturer and supplier of liquid and dry bulk road tankers.
Both companies are subsidiaries of global conglomerate CIMC Group.
The site's main road exposure, frontage to Western Port Highway and proximity to CIMC's workforce were key attractions.
City of Casey Mayor Sam Aziz said the council welcomed the investment into the region.
"With almost 70 per cent of residents leaving the Casey Cardinia region every day to go to work, facilitating the creation of more local jobs is a key priority for council.
"We are committed to supporting local businesses to grow and employ more people or those looking to invest or relocate and bring new jobs with them," Cr Aziz said.
"CIMC Group has recognised the benefits of locating within the Cranbourne West Employment Precinct, serviced by major transport links, nearby amenities and a ready-made workforce, and we welcome the much-needed jobs that this development will bring our region."
The July edition of Grow, the Casey Cardinia region's business-to-business magazine, is out now!
Download your copy now from the eMagazine link below… it is a great read!
And when you subscribe you'll be alerted when the next edition is published.