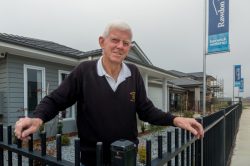 By Narelle Coulter
Geoff Hardie, the owner of home building company Rawdon Hill, has seen incredible changes in the Casey Cardinia Region since he built his first home in Cranbourne in the 1970s.
Rawdon Hill sales consultant Jillian Craig tells a delightful story about her boss Geoff Hardie, the owner and founder of the company which has been building homes in the south-east for more than 40 years.
Jillian was showing potential buyers a Rawdon Hill spec home. As they walked towards the front door they spotted a man working in the garden.
"The buyers said 'we don't want to interrupt the gardener'. I said that's not the gardener, it's the owner of the company," Jillian said, laughing.
"Those buyers were so impressed."
"I'm not an office person," chipped in Geoff, clearly amused by the anecdote.
Since 1976, Geoff and his wife Sue have overseen the construction of more than 6000 homes throughout the south-east under the Rawdon Hill banner.
The company was named after the Dandenong North street in which Sue and Geoff bought their first home.
"We had a different name picked out but it was taken so our accountant took it upon himself to pick the name. I have to spell it to customers all the time," Geoff said.
Originally from New Zealand, Sue and Geoff came to Australia for an 18 month working holiday in the 70s.
Despite having no qualifications, Geoff got a job in the building industry.
"In those days it was easy to become a builder, you didn't need a licence or anything. We built our first place in Cranbourne in 1976 and we have really gone from there."
He chuckles as he recounts the difference in buyer expectations in the 1970s compared to now.
"People wanted 10 squares, three bedrooms, one bathroom and no garages. Garages were an extra.
"We sold that place (in Cranbourne) for $27,500 and still made a profit," he added, laughing.
"Today stamp duty costs more than that."
Geoff has also seen buyer expectations ratchet up decade by decade.
"It amazes me. There is a lot of talk at the moment about first home buyers struggling to get into places but when they stop and think about it they want everything in the house, that's why it costs so much.
"Our first house we had we didn't have carpet on the floors just bare boards because we couldn't afford it at the time."
Geoff is also amazed by the speed of the growth that continues to transform the City of Casey and neighbouring Cardinia.
"Oh yes, that has surprised me.
"I have seen it developing over the years, but I didn't think it would develop as quickly as it has."
In its early days Rawdon Hill was only allowed to build three houses per year.
Today the company builds 150 homes a year. At its peak more than 300 families each year were handed the keys to their new Rawdon Hill home.
"We pride ourselves on the fact when we finish a house we are prepared to live in it ourselves," said Geoff.
Geoff and Sue, who is the company secretary, employ 22 staff whom Geoff describes as "family".
Jillian Craig, who joined Rawdon Hill nine years ago, agrees.
"I say to people all the time, it's a family business and it really is. It's lovely. You feel like you are part of the family," she said.
"Geoff knows what is going on in the company all the time."
Today Geoff has scaled back his involvement, confining himself to site inspections before projects start. He also dabbles in unit development "not as a business but because I enjoy it".
He says Sue is "trying to get me to retire".
The couple are "impulsive travellers" and enjoy spending time with their grandchildren, who are aged five and seven.
On Wednesday afternoons Geoff can be found on the golf course working on his handicap.
"I'm not sure that I'll retire for a while, I am happy contributing at the moment. I do little projects myself within the company structure, unit projects and that sort of thing."
Near the Rawdon Hill sales office in Berwick Waters is a half completed house by collapsed builder Watersun Homes.
In contrast, Rawdon Hill continues on a sure financial footing four decades from its humble beginnings in Scott Street, Cranbourne.
Geoff maintains the secret to Rawdon Hill's success is simple.
"Just be nice," he said, smiling.
"A hands-on approach also helps.
"I've had no regrets over the 40 years, that's for sure."
The July edition of Grow, the Casey Cardinia region's business-to-business magazine, is out now!
Download your copy now from the eMagazine link below… it is a great read!
And when you subscribe you'll be alerted when the next edition is published.