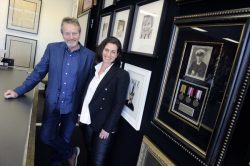 By Rebecca Skilton
With boutique stores in Berwick and Brighton, Framing to a T stocks a beautiful selection of framed artwork, occasional furniture pieces and home decorating accessories.
Established in 1989 by husband and wife Tony and Cath Stocks, Framing to a T is a premium destination for custom picture framing and design for both individual and corporate settings.
"Framing to a T framers and designers supply framing for reception areas, corporate boardrooms and sales spaces for many local businesses," Cath said.
"Framing in these spaces can portray the history and growth of the business, sharing the story behind the brand."
Every framed piece produced by Framing to a T is devoted to quality of design and is constructed with a strong focus on conservation in the company's manufacturing HQ in Hallam.
A trailblazer within its industry, the framing and design studio also features products such as designer art works, quality framed prints, bespoke mirrors, modern mirrored TVs and decor items to fulfil every interior styling need.
"Framing to a T produce unique, innovative and custom picture framing solutions," Cath said.
"With the emergence of the TV Mirror on the market we have developed a high quality product to supply this exciting new concept to Australia."
With an interior decorating background and years of experience, Cath can recommend artwork placement and decorating concepts to complete clients' homes and businesses.
Decorating recommendations include furniture, furniture placement, soft furnishing, flooring, paint colours and decorator pieces, with some furniture and homeware items available for viewing within the Framing to a T studios.
"Because our picture framing has a design focus, the business offers beautiful framed artworks, mirrors and occasional furniture pieces and homewares. These pieces complement our framing service," Cath said.
With clientele consisting of leading hotels, hospitals, schools, art galleries, private art collectors and art industry groups, Framing to a T has successfully cemented itself as a preferred choice of Victorian businesses for designer picture frames and quality framed art prints.
"At Framing to a T we manufacture large quantities of framed artworks and mirrors, maintaining exceptional quality and meeting client budgets and deadlines.
"We supply framing and artworks for corporate groups such as The St Vincent's Group and St John of God," Cath said.
"In addition, we supply framing and artworks to prestigious hotels such as The Grand Hyatt, The Park Hyatt and The Carlton.
"We provide conservation framing for original artworks consigned by the Lustig and Moar Group, as well as acclaimed artists' works including David Howell and David Rankin."
For further information on Framing to a T's custom framing service visit the showroom at 19/2-10 Hallam South Road, Hallam, or 16 Gloucester Avenue, Berwick.
For the Hallam showroom call 9796 3398. For more information visit www.framingtoat.com.au or find the company on Facebook at facebook.com/FramingtoaT.
The July edition of Grow, the Casey Cardinia region's business-to-business magazine, is out now!
Download your copy now from the eMagazine link below… it is a great read!
And when you subscribe you'll be alerted when the next edition is published.