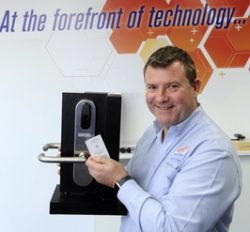 Greg Flood is the owner of Hallam based business Eclipse Security Systems. He has been providing home and businesses owners throughout Melbourne with security solutions since 2000. Greg shares his working day and how he likes to let off steam away from the office.
Describe a typical working day?
For me a typical working day starts by meeting with our installation and service teams to ensure that our clients' needs are being met and any emergencies are dealt with. From there most of my day is spent running the business, visiting and talking to customers and dealing with suppliers.
What are your impressions of the Casey Cardinia Region from a business perspective?
The Casey Cardinia Region is a great location to establish a business, it is one of the highest growth areas for businesses in Melbourne, all of whom need security. Our head office, which operates from Hallam, has easy access to the city as well as Gippsland and the Peninsula without having the overheads of being located closer into town.
What has been your biggest career success to date?
Successfully delivering a number of major CCTV projects to cover townships in the Yarra Ranges, where we worked in collaboration with the local councils and Victoria Police. These CCTV systems have helped to significantly reduce crime in local areas which include parks, railway stations and the main streets.
What has been your biggest career failure to date?
Up until a few years ago I was spending too much time working in the business (with my input into every aspect of it), this did not allow enough time to develop direction and strategies for growth. As the company was growing it was difficult to hand over responsibly to others.
What did you learn from that experience?
I have realised that the team approach is critical for business success. This has allowed me to focus on major changes in direction within the security industry. Also to ensure that we are at the forefront of technology, as our business revolves around using the latest advances to define security solutions for our customers, whether they be schools, manufacturing, retail, healthcare or councils.
If you had to invite five people to a business luncheon, who would they be and why?
I love this question although limiting to five is tough – Bruce Lee, Steve Jobs, Winston Churchill, Abraham Lincoln and Richard Branson. They were all disciplined, focused and fought for what they believed in and were not frightened to push boundaries for change.
How do you relax away from work?
I have a holiday home in Venus Bay so I head down there with the family which is great because it forces us to spend quality time together and do activities. It's too hard to get the kids away from the TV or iPads when we are at home.
Tell us something most people would not know about you?
I grew up in Belfast, Northern Ireland, during the Troubles. Some people have asked if that is why I got into the security industry…
What is your business mantra?
Eclipse Security Systems' mantra is to provide innovative security solutions through honest open communication, empathetic understanding of customers' needs and sense of urgency to protect staff and business assets. To achieve this we ensure that staff at Eclipse Security Systems have the relevant skills and opportunity to meet the needs of our clients.
Eclipse Security is at 54-56 Centre Road, Hallam. Contact 1300 661 199.
The July edition of Grow, the Casey Cardinia region's business-to-business magazine, is out now!
Download your copy now from the eMagazine link below… it is a great read!
And when you subscribe you'll be alerted when the next edition is published.