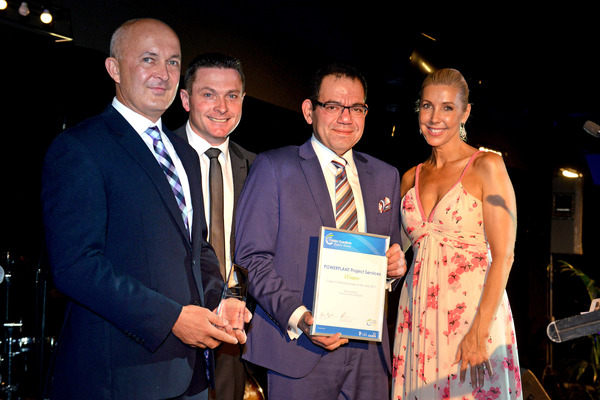 By Narelle Coulter
Businesses as diverse as a winery and an electrical contractor were among those hailed as the region's best at the annual Casey Cardinia Business Awards on Friday 27 October.
Business owners, managers and staff from across the region gathered at the Cranbourne Turf Club for the event, hosted by television personality Catriona Rowntree.
Business of the Year went to Hallam-based Powerplant Project Services.
Owner and director Greg Plant accepted the award saying with some understatement: "That's pretty good.
"To me it is proof that if you have an idea and are prepared to work hard you can do anything," Mr Plant said.
Earlier in the evening, Mr Plant accepted the top award in the Trades and Construction category.
Newcomer Natalie Birch, the creative director of Ideas Ministry, was shocked to win the Business and Professional Services Award.
"I'm stoked," she said with a huge grin.
"This is our first year and I love working with the local community. The awards are recognition of people doing their best for the community and business."
The Health Education and Wellbeing Award was won by YMCA Casey.
Area manager Barry Harrison said the YMCA enjoyed a close working relationship with the City of Casey.
"We have six centres and individual centres win awards but this award is about us working together as a whole team. It's about us working together for the community."
Tour Local's award for best Home-Based Business was accepted by Ray Staindl on behalf of owner and founder Joanne Staindl.
Ray paid tribute to the hard work and vision of his mother who couldn't attend because she was on the road hosting a tour.
"I want to thank my mother. It was my mother who started this business nine years ago.
"Between the two of us we have kept it going. She's always been about people and she's always been my inspiration."
Winner of the Hospitality Business of the Year was Cannibal Creek Winery. Owner Kirsten Hardiker said it was an honour "to be recognised in our own territory".
The manufacturing award went to Powerplants Australia.
Owner Carl van Loon said the firm had gone through tough times in the last eight years with stiff competition from European manufacturers. However, just last week Powerplants had signed a large contract with a US company.
"It is great to be able to manufacture things here in Australia. It is amazing what you can do when you keep persevering and pushing through," Mr van Loon said.
The title of best new business went to Pakenham-based Davey Marine.
Owner Adam Davey said his team members, which were all present at the awards "are everything".
"If you look after your staff, then they will look after your customers."
No business on the winner's stage has gone through more drama and hard times than Emerald Village Pharmacy, winner of the Retail Award which was gutted by fire in 2015.
Owner Louisa Slammers said the award recognised that the business had "come back strongly" thanks to the support of the Emerald community.
Waverley Industries won the Social Enterprise category for the third year in a row prompting representative Noella Malabar to encourage business to "open their doors" to workers with a disability.
Beaconsfield Dental principal Dr Robert Panjkov urged other businesses to go green when he accepted the Environmental Sustainability Award.
The award for the region's most popular business went to Twisted Sista, Upper Level at Fountain Gate. Twisted Sista won the People's Choice category with more than 900 votes.
Casey Mayor Sam Aziz said 141 businesses had entered the awards and that all the nominated businesses had made an "outstanding contribution to the regional economy".
Cardinia Mayor Brett Owen said the two councils were working hard to create new jobs in the region.
Victorian Planning Authority spokesperson Paul Cassidy told the audience that in the past five years more than 21,000 new jobs had been created across the two councils, more than the number of new households.