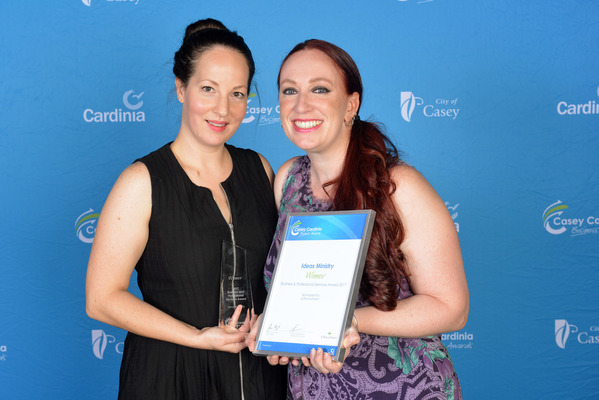 Category – Business and Professional Services
Sponsor – AJ Recruitment
Winner – Ideas Ministry
Finalists – Direct Management, Successful Endeavours
Ideas Ministry has edged out heavy-hitters Direct Management and Successful Endeavours to take out the Business and Professional Services award.
Ideas Ministry specialises in making brands do the selling for its clients.
Natalie Birch is the creative director of the Casey-based business.
On her website Ms Birch describes herself as an "ideasmith".
"We combine our great ideas with expert skills in graphic design and marketing and collaborate with other creative professionals like photographers, web designers, copywriters and printers to offer a complete branding solution which reels in your dream customers," Ms Birch said.
"Anyone can design, but it takes personality to come up with great ideas.
"At Ideas Ministry we like to find what's different about you, and use that to your best advantage across brand development and marketing. Draw a square and we'll think outside it.
"Where many designers will simply take your design brief and follow it, we go a step further and help you to create and fulfil the brief.
"We research your industry, market, target customers and competitors, so that we're starting every project with a really sound idea of what we're doing, and can deliver you premium results the first time."
Ms Birch has immersed herself in graphic design and creative art for more than 15 years.
She was taught by the same lecturer who taught children's book illustrator Graeme Base of Animalia fame.
"We see things differently at Ideas Ministry. Anyone can design, but it takes personality to come up with great ideas.
"We're boundary pushers. Alternative explorers. Your business think tank," she said.