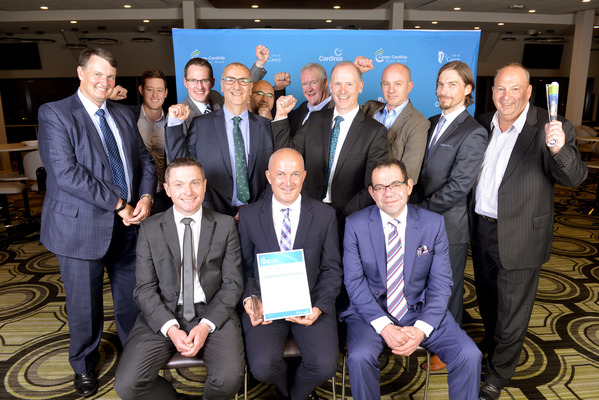 Category – Trades and Construction
Sponsor – Mirvac
Winner – Powerplant Project Services
Finalists – Elite Building Services, Insulgreen Solutions
Hallam electrical contractor Powerplant Project Services has been surging from strength to strength.
The firm has major lighting design contracts on some of the state's largest road projects, its staff list is ever-growing and recently it appointed its inaugural chief executive.
Now, to add to the success, Powerplant has taken out Casey Cardinia Business Awards' highest prize – Business of the Year.
Powerplant has been involved in "asset relocation and lighting design" for the Thompsons Road upgrade as well as designing lighting for the Monash Freeway between Pakenham and Tullamarine – except the city tunnels.
Other projects include street lighting and asset relocation for the Mernda rail extension and highway upgrade in Traralgon.
Powerplant's staff has grown sixfold to more than 50 in the past five years. Last year it added more than 600 projects.
Chief executive John Kelso said Powerplant was part of a growth area – providing infrastructure and services for utilities – at a time when utilities were downsizing and outsourcing.
"It's an exciting time to come to the business," Mr Kelso said.
"We're looking also at how to bring in new local talent, such as through traineeships, as a way of regenerating and building up new skills.
"Success is driven by having the right people and having the right culture."
Mr Kelso, a former AusNet national services manager with 38 years in the utility sector, crossed to Powerplant because of its culture and the fact that it was "going somewhere".
He pointed to renewable solutions as a possible new frontier.
"Where I came from (in the utilities sector), they were doing quite a bit in trialling the renewables space.
"We're working hard to take these new technologies and to add those to the intelligent infrastructure solutions we give our clients."
Director Greg Plant used to work for Mr Kelso 25 years ago.
"We're looking to develop the business to best serve those infrastructure needs in this (south-east Melbourne) region and across the state.
"We're also considering new opportunities interstate.
"But, despite this fantastic growth, we don't lose sight of what's important to people in this area."
The current M1 widening project ranks as one of Powerplant's biggest jobs, alongside its lighting design for 300 light poles in the recent Tullamarine Freeway widening.
"For us it's a real achievement as a relatively small company to be participating in these larger projects and to have contact with nearly the entire freeway.
"We're little guys who have got to do big things locally."
Other major local projects include Peninsula Link, Sladen Street, Ernst Wanke Road, Northey Road, Casey Fields BMX centre and Bunjil Place.
Powerplant also lands electricity-line contracts for new housing estates, particularly in Casey.
Mr Plant said the secret to Powerplant's success comes from "serving our customers well".
"We develop the most economic idea and we deliver what our client needs from it," he said.