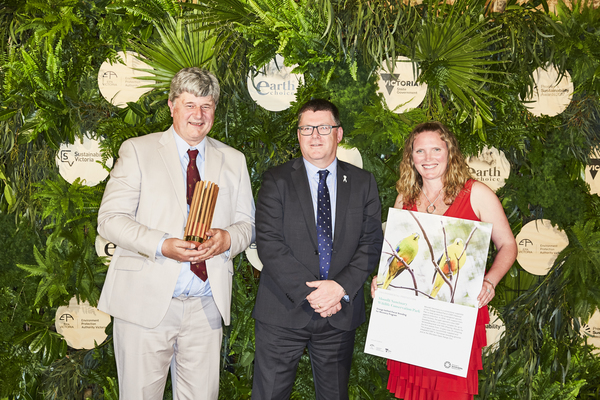 By Brendan Rees
Moonlit Sanctuary in Pearcedale took out the award for Environmental Protection for its Orange-bellied Parrot National Recovery Plan to save the bird from extinction.
The Sustainability Awards, which were presented on Thursday 26 October, recognised and celebrated Victorians who were leading the way to a sustainable future.
Park director and founder Michael Johnson said it was "fantastic" to receive the award.
"We're only getting started in many ways. This year we have 17 pairs, last year we only had about 10 pairs. This is the first year we've really had everything in place ready to go."
He said their breeding program this year was "off to a great start."
"We managed to get our birds together nice and early. So far we've got 17 pairs. We have seven pairs; already got eggs, so we've got about 30 eggs and already had three hatched which is very good because it's an early start to the season."
"It's a thrill to have that many birds, already with eggs at this stage; that's quite an achievement, I think."
Moonlit Sanctuary designed a 20-aviary complex for up to 40 breeding birds and 100 offspring after trialling a block of five aviaries.
With support from Zoos Victoria, the sanctuary opened a new OBP breeding facility last year.
Mr Johnson said the sanctuary was committed to running the program until there was a viable wild population again.