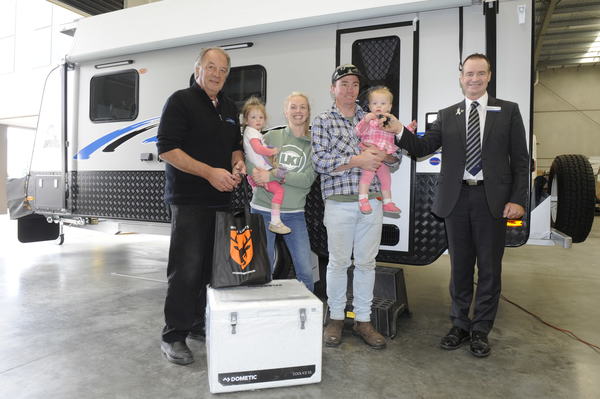 By Kyra Gillespie
The 1000th locally-manufactured caravan has officially rolled off the production line.
Made right in the heart of Pakenham by Goldstream RV, the handover of the caravan to its new owners celebrates the company's longstanding support of local jobs and businesses.
"We are really excited to be handing over our 1000th Pop Top Caravan," Goldstream RV Director Steve Petrovich said.
"All our vans are manufactured right here in Pakenham.
"We do everything ourselves and try to deal with as many local companies as we can.
"The most important thing for us is to source materials that are locally-made, rather than importing from overseas. It's certainly more expensive, but we sell our vans on quality not quantity."
Mr Petrovich initially started manufacturing wind up camper trailers out of the family home in Officer almost 25 years ago.
From those humble beginnings, the company has grown to its current two-acre manufacturing site in Bald Hill Road, Pakenham, where it continues to manufacture wind up camper trailers and has also added pop tops and caravans.
"I think it's great that we've had the caravan industry pop up in the Cardinia Shire because it creates so many local jobs," Cardinia Mayor Collin Ross said.
"Unfortunately, there are not enough jobs for the amount of people moving in, so local jobs are becoming rare.
"We probably produce one job for the five families who move in, we can't make them appear any faster than that.
"Having these vans manufactured locally is fantastic for the shire."
A young Stratford family was lucky enough to be the new owners of the milestone caravan – and they even had the keys handed to them personally by the Mayor.
Rob and Penny Cumming have big dreams to take their little family on the trip of a lifetime around Australia.
But with one and two-year-old daughters, Bella and Elsie, the couple think the big road trip will be a few years down the track yet.
"The long-term goal is to travel Australia once the girls are a little bit older," proud dad Rob said.
"We love getting out as a family and going on camping trips, so this will be good for the longer trips where the swag doesn't cut it.
"It's been pretty daunting buying a new van, but we figured the next 10 years will be the best for travelling with the kids."
The adventurous couple chose the caravan for its off-road capabilities, giving them the flexibility to drive on any conditions when they embark on their big adventure.