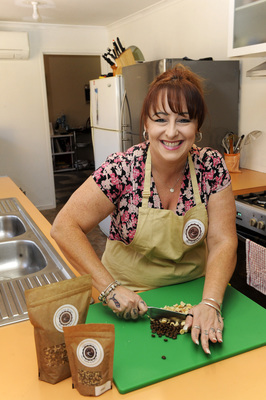 By Narelle Coulter
Jade Fraser loves breakfast so much that she is building a business around her favourite meal of the day.
Jade, 38, is the founder of Tall Dark and Nutty a boutique muesli business.
Sitting down to eat her own breakfast one morning last year, Jade hit upon the idea of combining traditional muesli with that other great breakfast favourite, coffee.
"It just made so much sense. To me coffee and breakfast go hand in hand," said Jade, who loves coffee so much she has a cluster of little coffee beans tattooed behind her left ear.
In the kitchen of her mother's Narre Warren home, Jade creates her signature dark chocolate espresso muesli – combining chocolate coated espresso beans, with oats, puffed rice, pumpkin seeds, six different nuts, shredded coconut and spice.
The espresso beans, sourced from Zest in Berwick, are hand coated in the chocolate.
"It's a labour of love," said Jade, laughing.
She also makes a dirty chai muesli and is working on a French vanilla latte and a vegan mocha.
A 300gram bag of muesli retails for $8.70.
Her range also includes a spiced espresso dukkah and sweet espresso dukkah.
Jade sells to individuals at the moment through Facebook and Instagram, but hopes to get her products into cafes soon.
The origin of Tall Dark and Nutty goes back to Jade's own extraordinary weight loss journey which saw her lose 30.8 kilograms by changing her diet and exercising.
At her heaviest she was over 100 kilograms.
"I lost 12 kg through changing my diet alone," she explained.
"The weight was coming off but my body look quite awful so I started training with a personal trainer. During that process I learnt what to eat. I was really quite confused by food before."
Jade says she has always had an "interesting relationship with food".
As a child she was an extremely fussy eater and when her mum got sick with cancer when Jade was 17 she virtually stopped eating.
" I felt like everything was out of control so I stopped eating all together because I could control that," she explained.
In her 20s she had a daughter who was three months premature and her mum, Fran, became sick again.
"I lost touch with what food was, what it did and what it's purpose was.
"I lost my way."
At 100.8 kilograms, Jade was boarding on using a cane to walk and her daughter was faced with the prospect of wheeling her mum around shopping centres in a chair.
A doctor offered to write a prescription for diet pills, a solution Jade felt deeply uncomfortable with.
When her brother urged her to take them because "you are just too heavy to do it on your own", something snapped and she thought " you just watch me".
Jade started replacing meals with diet shakes, walking around the school oval and using a power fit machine.
Not long after, the idea for Tall Dark and Nutty was conceived.
"I had detoxed off sugar and was looking for something for my own breakfast that was quick and easy. But I found whatever I could get in the supermarket was too sweet for my taste by then and I didn't feel had enough nutritional value so I started making my own muesli at home," she explained.
Jade completed a business course through the New Enterprise Incentive Scheme, by the end of which she had a business plan and her product was "ready to go".
Tall Dark and Nutty is financed through another venture Jade launched last December – Luxe Grazing.
Luxe Grazing, which offers fresh, healthy grazing boards for functions and parties, says Jade has "really taken off".
"When I lost the weight I really struggled at functions and events because I didn't want to eat the fried spring rolls or pies.
"Luxe Grazing came to me as a way to feed a lot of people as naturally as possible."
As a single mum Jade relishes being able to work from home, however she also utilises a desk at the Waterman Business Centre in Narre Warren. That's where she tackles administration and "back end stuff because at home I just wasn't doing it".
"I'd decide that instead of sending a difficult email to someone I really need to vacuum the floor," she said, laughing.
"Working from home is great because I want to be around for kids but so easy not to do the hard stuff. "
The shared working space at Waterman Centre has also brought her into contact with other small business people.
Jade's aim with both businesses is to "build a brand around natural eating and body confidence".
In five years she would like her muesli to be available in cafes, retail stores and hotels.
"I'd like it to be a thriving brand with a really good message."
She also dreams of a small factory with a shop front, coffee machine and community garden.
"One of the hardest things, the most frustrating things about having the vision is not having the capital to do it, that's the biggest struggle."
While she works towards making that vision a reality, Jade's passion and energy is revitalised each morning when she climbs back into bed before her children wake with a bowl of muesli and cup of coffee.
"I would like to create a community around breakfast, whether that's eating my muesli or not. There should be more breakfast meetings and even breakfast dates. I just think there needs to be more breakfast," she said, with another peal of laughter.