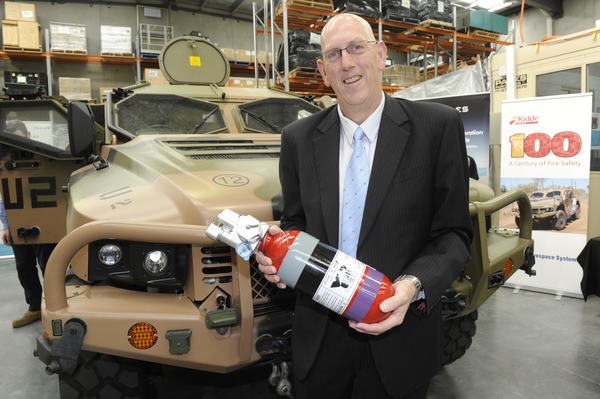 By Casey Neill
A Hallam company is protecting Australian soldiers.
Kidde Aerospace and Defence (KADA) provides the automatic fire and explosion suppression system for the crew area in the Hawkei Army vehicle.
Employees and contractors welcomed a completed Hawkei into their workshop on Thursday 22 March to see their hard work in place.
"Other than the blast protection on the module of the Hawkei itself and the armour, it's probably the next biggest safety feature on the vehicle," KADA general manager Ray Walton said.
"That's what our company specialises in.
"We do fire protection on military and commercial aircraft."
That includes the Qantas Dreamliner and other well-known planes.
"We've been part of the Hawkei program since inception, going back to 2009, as one of the lead Australian companies supporting (vehicle manufacturer) Thales Australia and the Hawkei project," Mr Walton said.
"Our equipment is on the joint strike fighter that's due to enter service later this year in the Air Force.
"We expect to be involved in the servicing of that."
Mr Walton said KADA was also involved in the Land 400 vehicle project, which will provide the Army's next generation of armoured vehicles.
"Our equipment's on that vehicle," he said.
KADA has been in Australia for 30-plus years supporting commercial and defence customers in Australia, New Zealand, Papua New Guinea and the Pacific Islands.
The Hallam site is Kidde's only Australian presence and employs 14 people.
"We were in Hallam back in 2006 originally, shifted down to Dandenong South for three years and then back," Mr Walton said.
The company also services and sells aviation and maritime life rafts.