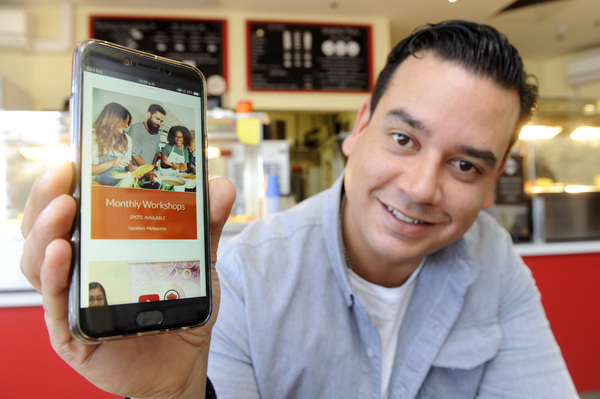 By Narelle Coulter
Narre Warren entrepreneur Clive Canal was holidaying in Tasmania when the inspiration for his foodie business, Whozcookn, struck.
Staying in the rural town of Stanley two years ago, it wasn't long before Clive had exhausted all the town's eating options.
"Within a few days we'd gone through everything. I did some research and knew that within that region there was amazing produce but we just couldn't tap into it," Clive said.
"People like myself who were travelling through had no network. I thought 'I'd love to taste some of this stuff but can't'."
Clive's solution was an app that would let users know all the restaurants, cafes and take-away businesses within a few kilometres offering what he describes as "multi-cultural, authentic food".
He named the app Whozcookn, giving it a deliberate Aussie flavour.
"There are other apps out there but none of them are Aussie," he explained. "This is the only home grown one."
As well as the app, which will be released later this year, Whozcookn has grown to include an active Facebook "community" and cooking workshops.
The workshops specialise in traditional, ethnic dishes led by talented Melbourne cooks. 2017 Masterchef contestant Pia Gava led an Italian themed workshop in Berwick earlier this year.
Clive's love of food comes from his own multi-cultural background. His mother is Colombian and father Mauritian. His parents met in London and emigrated to Australia in 1987 arriving on Clive's 7th birthday.
He praises his mum as a great cook and when he wants a home-cooked meal it is her kitchen he visits.
"As a child I remember her cooking Mauritian noodles which are beautiful and South American dishes, such as Bandeja Paisa, were also staple favourites within our family."
An industrial designer by trade, Clive gave up his job in the motor industry to focus on Whozcookn.
He has been working with a tech team for more than two years to design and refine the app.
"I had a look at what was available in the market in terms of apps and found there were others like Menulog and Uber Eats but what I found was that some of these apps had a scatter gun approach to making food available.
"Whozcookn has the reverse approach. It's more niche. It's all about dishes and cuisines and recipes that have been passed down through generations and refined over the years."
Clive signed up for the New Enterprise Incentive Scheme (NEIS) funded by the Federal Government, which gave him the skills to develop a business plan.
He also threw himself into every networking and business event offered by the City of Casey, sometimes attending three or four events a week.
The development phase has also involved a lot of eating as he tests cafes and restaurants who want to sign up.
"It's a tough job but lots of fun," he said, grinning.
"I took it as a blessing that I live in Melbourne. It is the perfect hub to create something like this because there are so many different influences and nationalities.
"People are willing to try new things and step outside their comfort zones."
Connection is a word that comes up often in conversation with Clive.
He loves the cooking workshop concept for its power to bring people together and is delighted that the Facebook page has become a forum for home cooks to share recipes, food snaps and experiences.
"Whozcookn is not just a business, it's a community," he said.
"Now there is a place you can go and connect with the brand itself. You can have that tangible experience, you can immerse yourself in this whole cooking workshop concept."
To help finance Whozcookn, Clive started a second business, Symbiotic Design Company, which produces 3D virtual models and animations for the manufacturing industry, helping them to promote their business and products.
Clive runs his twin businesses from the Waterman Centre in Narre Warren.
"I love it, it's amazing. You get support, make connections, it's a wonderful environment."
He encourages other young entrepreneurs to take a risk and follow their dream.
"If you have an idea and you have a dream, then definitely pursue your dream, follow your heart. But it's equally important to be practical and logical. Do your research, study the market, look at the trends and see if your idea or concept fits in the current market."
Within a year Clive hopes Whozcookn "covers most of the popular states in Australia".
" I hope the community will be strong and healthy and for it (the brand) to be part of people's lives.
"To be honest, and it might sound corny, I don't want it to be just a business. I want it to be a movement."
To find out more go to www.whozcookn.com