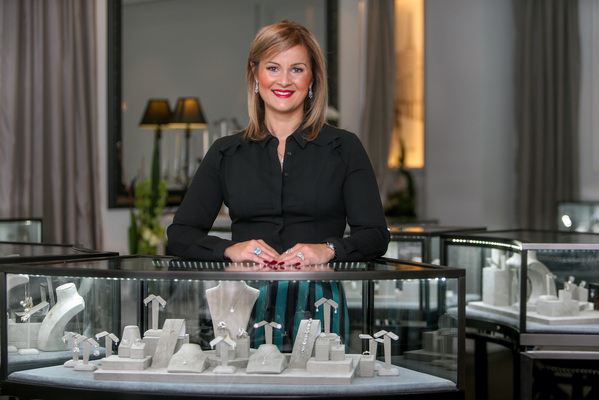 By Rebecca Skilton
"Choose a job you love and you will never work a day in your life."
Those are the wise words that CEO, creative director and lead designer of Fountain Gate's Artelia Jewellery, Maria Ulas, is living by.
But as the now businesswoman and jewellery designer explained, her life wasn't always so, with a number of "trials and errors" leading to her dream career.
"I did biomedical science at university and majored in microbiology and I was actually working at Monash Medical Centre but it was very hard-hitting," Maria said.
"I studied for five years before I realised, 'oh my god, I'm just going to shrivel up if I stay here … this isn't me'."
Having always considered her drawing and creativity "just a hobby", Maria never considered her passion as a career path – until she met her husband, Robert.
"(Robert) kept saying to me 'you're so creative' and I would say; 'no, I'm not…I'm supposed to be a doctor or a scientist, I'm not creative'," Maria said.
"He's a master jeweller and it wasn't until he went to Italy and brought back some enamel (that I considered it as a job). He literally came home and said; 'design me a range, just try it. Just give it a go and see what happens'. So I did.
"I designed this range and we took it to the Sydney Trade Show and it went absolutely crazy. It was overwhelming; the factory couldn't keep up with the demand to get these pieces out.
"It was that moment where I said, 'okay, I see what you're saying, let's do this'. And the rest is history."
Following her decision for a career change, Maria worked alongside Robert at his jewellery manufacturing business, TWM co, but admitted something was still "lacking".
"I'm a very emotional person – I really go by energy and the meanings behind everything.
"A family recipe and a piece of jewellery are really the two things we take with us in life from generation to generation – (that love) was one of those things I felt like I wasn't getting when I was creating for business to business. So I thought, something's calling me and I really need to do this," Maria said.
'This' would become Artelia, which opened on 28 May 2017. Alongside her team, Maria offers "the finest diamonds, pearls and precious stones," and considers the Artelia team to be the wedding and engagement ring specialists.
Maria prides herself on the store's bespoke approach and the fact that all pieces are designed and created in-house by herself and Artelia master jewellers.
"(In the beginning) a lot of people would say; 'have you got competition? How are you going to do this? How are you going to do this being a mum with kids?' But I honestly don't consider this work. When there's enough of a drive to do something, it's not work. There's no other alternative at this point; this is where my heart is. My heart sings when I'm here," Maria said.
"I used (my two kids) younger years to prepare – people are always really surprised, especially family and friends. They'll be like 'where did you come from?' and I say, 'well this is what I've been up to in the last five years'.
"But it's taking every opportunity and not thinking 'I'm just going to sit here,' which isn't in me anyway. I used (the baby and toddler years) to my advantage, and then, when the time was right, I was ready to go."
Eager to keep learning, Maria is also studying gemmology with the Gemmological Association of Australia and dedicates more than three nights a week to her studies. She divides her time between her professional and personal life but does believe the love of her career has a positive influence on both herself and her family.
"This is my weakness; the obsession. But I honestly think if you're happy and your heart is singing, your kids' hearts will sing with you," Maria said.
"My advice to other women would be to not only live your best life but to bring out the best in yourself.
"It's so much easier to not do anything and sit back and take the back seat whereas we've got so much to give. We're so special and we're so hardworking, it's ingrained in us. If there's a dream, don't waste time. And if you've got young children and you feel like right now I can't, you can. All it is is mindset. If there's something they want to do or a business they want to go for or achieve, just go for it."