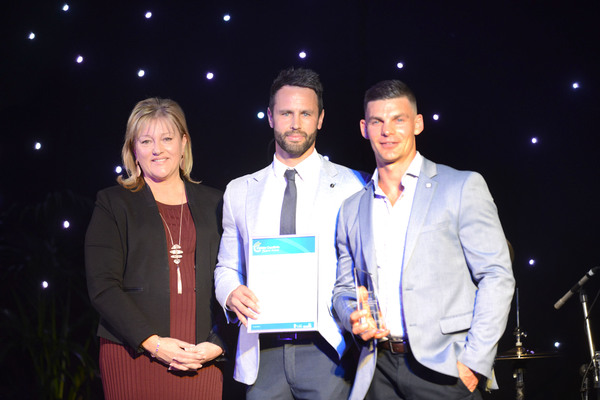 Through helping clients achieve their fitness goals, Bfirm Personal Training has reached a goal of its own – to win a Casey Cardinia Business Award.
The Berwick personal training business is the 2018 winner of the Health, Education and Well-being award.
Bfirm has come a long way since it was established in a backyard gym in 2007.
In his acceptance speech, co-owner Jarrod Matthews said Bfirm started with two trainers, himself and co-owner Michaeld Harold, in a backyard gym.
The business now has seven trainers and 350 clients to whom Mr Matthews paid tribute.
"This award is as much theirs as ours," he said.
Mr Matthews said Bfirm hoped to use publicity and momentum from winning the award to get the region moving.
"We want to create a healthier Casey Cardinia Region. We want to use this win to get into schools and communities to make it a healthier region."
At Bfirm, trainers tailor sessions to each individual's specific goals. This personalised approach includes mentoring, rehabilitation (pre and post surgery/injury), and specialised training (eg. pregnancy).
"The culture developed in our business is all about building a community and providing an environment where our clients can reach their goals while having fun and being motivated by fellow Bfirm members and staff," said Mr Harold.
"We tailor our sessions to each individual client to ensure we implement a training program to help you achieve your goals. Here at Bfirm we believe in treating our clients like family. So whether your preference is one-on-one or two-on-one we make sure you have all the support you need every lift, sit-up, squat, curl and step of the way."