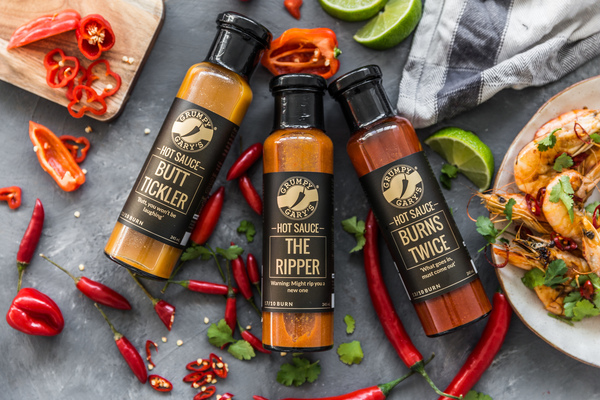 By Rebecca Skilton
Cranbourne based hot sauce business Grumpy Gary's has taken the 2018 Australian Food Awards by storm.
The family-run business, which is led by Grumpy Gary himself, Gary Muhar, did exceptionally well at the national awards, taking home Gold for their Smokey Hot Sauce, Silver for their Butt Tickler Hot Sauce (previously known as Xtreme) and Bronze for their Mango Hot sauce.
The annual awards, which were held in August, present producers (large and small) with the chance to benchmark their products and establish credentials in the Australian premium food industry.
Grumpy Gary's is the manufacturer and distributor of natural, handcrafted hot sauces and is a 100% Australian owned business. Their sauces are made with natural ingredients, are vegan-friendly have no added thickeners.
With ten hot sauces currently available for purchase through their online shop, Grumpy Gary's Sales Manager Nancy Muhar explained that some of their hottest sauces have recently undergone a slight change of name.
"We have renamed our hottest sauces to hilarious names with equally funny taglines! These have been flying out the door and giving our customers huge laughs at the events we do weekly," Nancy said.
"Our hottest sauces are now called the Butt Tickler (tagline – butt, you won't be laughing), Burns Twice (tagline – what goes in … must come out) and The Ripper (tagline – warning: may rip you a new one!)
"To give you an idea, The Ripper packs a heat level of 17 out of 10, which is super-hot (and made) with the hottest chilli in the world."
To find out more about Grumpy Gary's, visit grumpygarys.com.au.