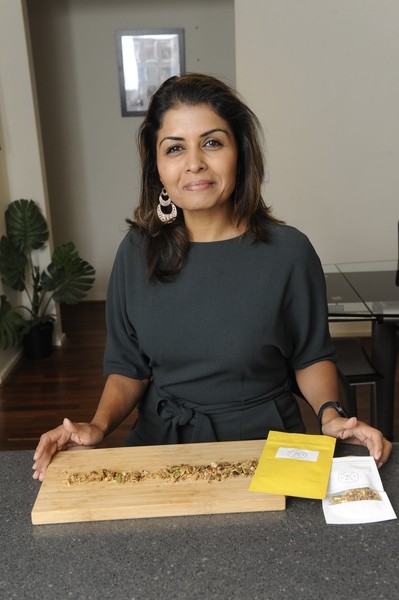 Through her business Paleo to Go, Berwick's Aarti Royan is striving to make clean, nutritious process-free whole foods easily accessible.
Her mission comes following her past life as an 'overweight, terribly lethargic desk junkie' who climbed stairs like she was 'climbing Everest.'
But that was years ago now. Today, Aarti 'can't even relate' to the highly stressed and borderline majorly depressed person she once was.
And she says it's all thanks to her quest to live a 'clean lifestyle.'
It started almost ten years ago when a colleague introduced her to the Whole30 program. Put simply, the Whole30 program is designed to change the way participants eat, think and feel in 30 days. Partakers cook their own meals where all inflammatory foods and beverages are removed. They eat three clean meals a day which are made with Whole30 approved ingredients (meats, seafood, veggies, and eggs).
Admitting she had tried every diet under the sun, Aarti warmed to the program and confessed it improved her mental wellbeing substantially. She could 'find no traces of her depression' and even signed up to do the 100 kilometre Oxfam marathon.
She finished the program having lost the final desired kilos and had gained a new mindset.
But where to now?
"Not long after (I finished the program) we went to Cape Bridgewater for a holiday and I was thinking 'wow, it's a six-hour drive.' Usually, you would stop at McDonald's and I was saying to my husband, this is really frustrating because I can't get something to eat if I don't pack anything. I have to be so organised," Aarti said.
"So that's when I decided that I was going to start something. I had this vision that you've got to have clean food wherever you go, even if it's just a little tub of something that's process, grain and dairy free – something that people like me can eat no matter where they are. We have so many kiosks for unhealthy foods, why can't there be something for clean food?"
For Aarti, Paleo to Go was 'the logical progression from the Whole30 Program' and she now has three heavily researched, ready-to-go paleo products available to be purchased via her website.
Her 'Cleanola' (a 'clean' take on granola) has been a standout, while her Mocha Hemp Balls and Turmeric Latte Blend have also proved to be crowd favourites.
"The long-term vision is that I really want to have a lot of products but I'm really in the (developing stage) at moment," Aarti said.
"I'm doing a lot of research and I'm trying to get the products out there. But because it's all process free, it's very logistically difficult because I'm not adding a lot to the product so they have a shorter shelf life."
Adding to Aarti's workload is her full-time job, training to become Australia's first certified Whole30 coach and the upcoming release of her book, Paleo, The Indian Way.
"The book is launching very soon – I'm so excited," Aarti said.
"I've got 50 paleo Indian recipes within the book but it's not just about being paleo – (the recipes) are also all Whole30 compliant.
"And they're very doable – they're not based on ingredients that aren't in your pantry. I'm big on the idea that (diets) have to be sustainable and on a budget. And it's Indian because a lot of the paleo eaters obviously want some variety in their food."
And while it may seem like she has a lot on her plate, Aarti admits it's all a part of her masterplan to spread the clean eating message.
"The ultimate vision with all of this is that the book and Paleo to Go is an offshoot of my Whole30 coaching,"
"I want to take this Whole30 coaching to corporates and I want organizations and leaders to get into 30 days of committed, clean eating because it drives efficiency, productivity and clarity. And I think once people at that level do it, it cascades down into organizations."