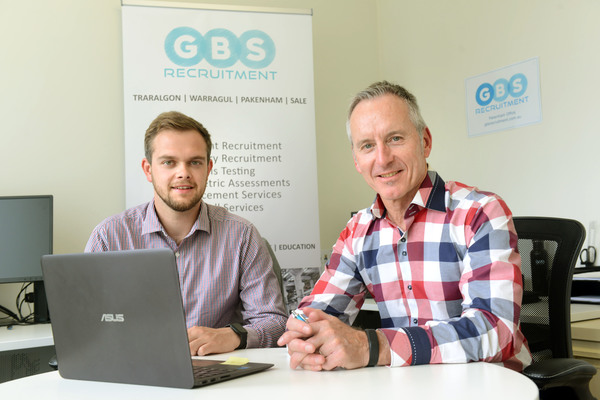 As at June 30 2017 there were 106,403 jobs located in the Casey Cardinia Region, a 6 per cent increase on the year before.
With a surging population, the region is continuing to attract new business, from manufacturing and retail to health and education providers right through to sole operators working from home.
Finding the right employees is one of the biggest challenges facing all organisations, as Sales and Strategy Director at GBS Recruitment Michael Dawson well knows.
The business was started 24 years ago in Warragul before moving to Traralgon by founder and current director Juli Halton. Currently led by General Manager and Director Rob Darby, GBS Recruitment has steadily grown across Gippsland and recently opened an office in Pakenham.
Mr Dawson said opening an office to service the Casey Cardinia Region as well as the wider South East metropolitan area was a natural progression for GBS, which has a diverse spread of clients across private businesses, industrial, corporate and government sectors looking for the best permanent, temporary, labour hire, and senior executive staff.
He said the GBS directors believe the region has a strong employment profile with job numbers expected to grow in coming years.
Retail is the region's largest employer generating 16,871 jobs in 2016/17, followed by health care and social assistance, education and trade.
The goods related sector accounts for 43 per cent of employment in the Casey Cardinia Region. Household services account for 39.8 per cent, business services 10.8 per cent, agriculture forestry and fishing 3 per cent and public administration and safety 3 per cent.
The region has more female workers at 52.7 per cent, compared to 47.3 per cent of males. Of those 54.2 per cent work full time and 43.7 per cent work part time, while 31 per cent were born overseas. The majority are aged between 25 and 54.
Mr Dawson said he expected demand for skilled labour to grow across IT, manufacturing, engineering and construction, health and education.
"I think we will find high needs across all markets. I expect industrial to be quite strong, because of our location here in the South East which has a strong manufacturing base. I am expecting commercial roles in the health services and government sectors to be strong as well.
"I have no doubt automation and online technology will move quickly in terms of expansion over the next few years. The job shift will continue quite rapidly whereby a lot of manual tasks will continue to disappear, but new jobs will come in the ICT and IT areas, particularly in leading and servicing the automations and technical requirements of these systems."
He pinpointed health care and education as other growth areas, while agriculture and its supply chain will definitely continue to be an important part of the region's employment mix.
GBS also provides casual teachers to the education sector and Mr Dawson said demand was growing strongly for this service across both primary and secondary schools for qualified CRT teachers.
He said building activity and infrastructure projects would keep demand high for engineers and trades people.
Mr Dawson said research has shown approximately 70 per cent of new business appointments that fail, do so because companies fall into the trap of hiring people who have a poor cultural fit with the organisation.
"Expert advice is crucial to make sure the fit is right for both the employer and employee. Sound recruitment and the critical processes required can make the difference between business success and failure, this is something GBS Recruitment is exceptionally good at," he said.
"We want businesses across the region to succeed by getting the right people for the right jobs."
The GBS website has options for registering for work or for loading vacancies should your business need help with employing staff across their three divisions – Commercial (White Collar), Industrial (Blue Collar) and Education – www.gbsrecruitment.com.au
– Statistics for this story were obtained from idcommunity demographic resources.