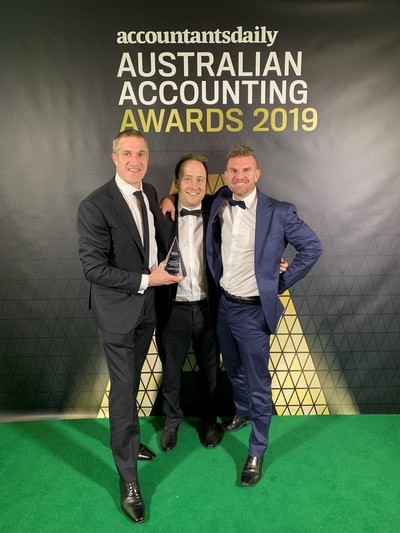 Highview Accounting & Financial was named the Mid-Sized Firm of the Year at the 2019 Australian Accounting Awards.
The win was announced on Friday 24 May at a gala event in Sydney.
Highview was also a finalists in two other categories – Fastest Growing Firm of the Year and Multi-Service Firm of the Year.
The finalist list featured over 270 accounting professionals and firms across 32 categories.
To be announced as a winner was "simply thrilling!" said Highview Partner Darren Crowther, who accepted the award.
The Australian Accounting Awards recognise excellence across the entire accounting industry, showcasing both the individuals and firms who are leading the way in the industry.
Marketing and Communications Manager at Highview Browdie Crowther said she was "humbled and incredibly proud" to be recognised at such a prestigious awards event.
"This is our grandest awards achievement yet and we are still buzzing with excitement" Ms Crowther said.
The award follows a successful 2018 when Highview won the Optus My Business Awards 'Workplace of the Year' and was named in the Australian Financial Review's Top 100 Accounting Firms 2018.
Highview operates from four offices in Cranbourne, Prahran, Mornington and Ringwood.
Head of editorial at Accountants Daily, Katarina Taurian, congratulated all the winners.
"To a group of people who prioritise their clients and professionalism above all else, sincere congratulations from myself and the team at Accountants Daily," said Ms Taurian.
"As well as recognising exemplary skill and innovation, this year's awards program celebrates the impact of accountants on the health, wellbeing and lifestyle of their clients and employees.
"The material impact of an accountant in the lives of their clients should be sung from the rooftops."