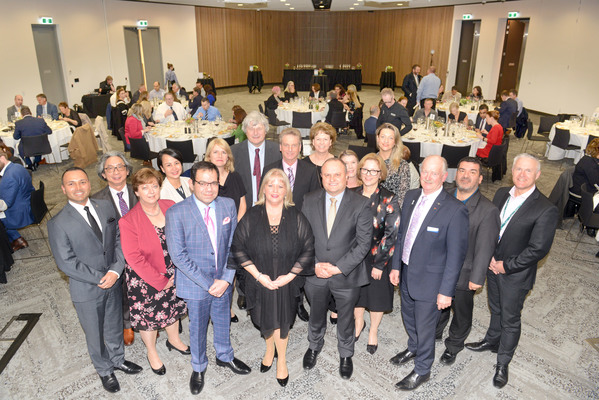 Leaders from across the region's tourism industry joined together to network and discuss regional tourism opportunities for the local economy when City of Casey Mayor Cr Amanda Stapledon hosted the annual Mayor's Business Leaders Dinner.
Held at Bunjil Place on Friday 14 June, Cr Stapledon was thrilled to welcome approximately 80 guests, including community members, local business owners, fellow Casey councillors and members from the state and federal governments, to the exciting event.
Board members from the recently formed Casey Cardinia Visitor Economy Inc. also attended. As the region's new tourism board, this dedicated group has set its sights on energising the visitor economy and injecting visitors into the region.
Speaking at the dinner, Cr Stapledon said the global visitor economy was set for "continued growth", presenting exciting opportunities for the local area. She highlighted the benefits of tourism to the wider business community and said that increasing visitation to the region would bolster the broader economy.
"Considering we, as the Casey Cardinia Region, are still in our infancy as a visitor destination, expenditure by all key markets is strong and continues to grow each year," she said.
"In the 2015/16 financial year, more than $462 million was generated for tourism and hospitality sales in our region; additionally, over this time, our region hosted almost 3,000 jobs across these two industries.
"We are well placed to capitalise on this growth, and with a great diversity of existing and emerging tourism assets, I am very excited for what's to come."
The event included a presentation from Cathy Main, Chair of the Casey Cardinia Visitor Economy Inc., while Carolyn Carr, Chief Executive Officer of Blairlogie, a not-for-profit community service based in Cranbourne, also spoke about an exciting new partnership with The Wolfdene Foundation.
Councillor Sam Aziz spoke about Casey's Smart Cities initiatives, while Cr Damien Rosario compered the night with an expert question and answer panel including Ruffino Ramos, Cranbourne Botanic Gardens, John Pandazopolous, Destination Phillip Island and Cathy Main, Westfield Fountain Gate.
Sharon Start also wrote a song called Casey is Calling, which she performed on the night, backed up by Michael Prizeman from Evolution Music.
For more information on the Casey Cardinia region and the Casey Cardinia Visitor Economy Inc. visit the Casey Cardinia Region website