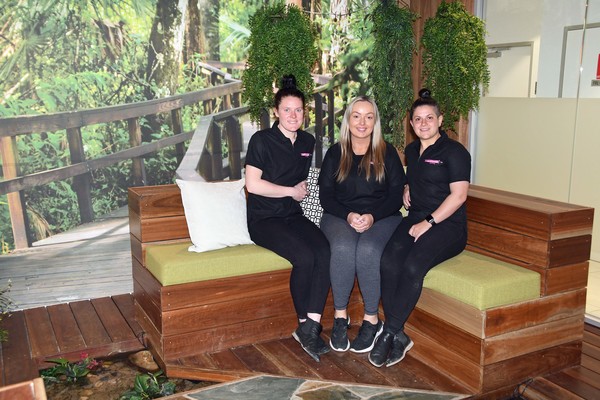 By Narelle Coulter
Lana Bonnet and Dani Lawrence are young businesswomen who have fought not only to get their painting and decorating firm off the ground, but also the prejudice that lingers about women working in trades.
The best friends are the owners and co-directors of L&D Picturesque Painting based in Narre Warren.
They describe themselves as commercial and domestic painters who are also "empowering women to shake the mould of the typical tradie."
Dani and Lana learnt the painting and decorating business working alongside relatives who were in the trade as they were growing up.
They decided to start their own businesses when they were just 23 and 22, determined to do things differently.
Their initial foray into small business faltered because the money was too inconsistent. To make ends meet, Lana got a job at a call centre and Dani resumed working with her dad.
"One lunch time I cracked it. I rang Dani and said 'I am going to throw this in. Do you want to give it (our own business) a crack tomorrow? Let's just do it and learn as we go," Lana said.
That was 2014. In the five years since the women have built a thriving business that services the South East and greater metropolitan Melbourne. Clients include Barbecues Galore, Trade Link, Melbourne Body Corporate, O'Brien Real Estate Pakenham and the Waterman group.
It hasn't been an easy road for the friends. As young females in a traditionally male business they admit they struggled to gain clients' trust.
"I had a door slammed in my face once because the person thought a guy was coming out to give the quote," remembered Lana.
The women have also been asked when will their husbands will be available?
Lana said those attitudes rarely surface now because she and Dani are more confident about their roles and the work delivered by L & D Picturesque Painting.
"We had to just let it go and move onto the next customer."
With strong ethics underpinning the business – their motto is Professional. Punctual. Precise – the women soon found that clients appreciated their honesty and commitment to get jobs done quickly and to a high standard.
"As we grew I think we put it out there that yes we are women, we are proud to do what we do and we do it well.
"We have integrity and we live and breathe our values."
The business partners have learnt many lessons along the way, not least how to block out the negative voices who told them they wouldn't succeed.
It is message of resilience and self-belief that they pass on to other young women through Savage Angles. Lana is an ambassador for the organisation which was founded by Casey businessman John McMahon to helped troubled teenage girls.
"I talk to young women about the three things that have helped me succeed – a strong circle of influence, having courage and resilience," Lana said.
They are also keen to encourage other young women to follow in their professional footsteps.
"We want to change the statistics, we want to make women in construction equal in number to men," Lana said.
"I would love to see in 10 years that when you walk onto a massive building site you see just as many females working there as you do males."
In their day to day roles Lana handles sales and business development, while Dani project manages. If a job needs to be finished, both women will roll up their sleeves and get on the tools.
The stress of running their own business has, at times, been overwhelming.
At one point the women had 18 staff and had to find $18,000 a week in wages. They now have a much more manageable three employees and use a team of contractors.
Early on the fledgling business was nearly crushed when a client defaulted on a $20,000 invoice.
"We sat there with $50 between us and thought 'What are we going to do now?' It was sheer determination and willingness to succeed that pulled us through," Lana said.
"We had sub-contractors knocking on the door wanting their money, that was the toughest."
When times get tough they rely on their 15 year friendship, forged over a shared love of playing soccer. The women rent a house together and Lana says their friendship is based on being "100 per cent honest with each other".
"We are both willing to give it a red hot crack and risk everything. I can make a decision and I know she'll back it and the same if Dani makes a decision."
They also rely on business coach and mentor Shelley Flett who has helped them with staff issues, internal processes, time management and keeps them positive about the future.
"I just love running a business," Lana said.
"I love setting goals, achieving them and looking back on how far we've come. It is tough, probably the toughest thing I've ever had to do, but my dream has always been to succeed. I love being on this journey with Dani, building something for the future for both of us."