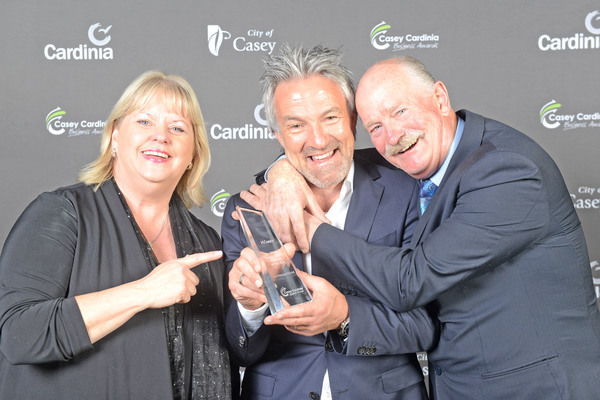 Gumbuya World is the 2019 Casey Cardinia Business of the Year.
CEO Ron Weinzierl accepted the award on behalf of his team at the gala dinner held at the Cranbourne Racecourse on Friday night 18 October.
He thanked the judges and said it was exciting to think where Gumbuya may go in the future.
Stage two of the hugly popular tourist park is expected to open on Melbourne Cup Weekend, further cementing its reputation as one of Victoria's premier tourist destinations.
"In our second year we are only just getting started," Mr Weinzierl said.
He congratuled the other winners and said the owners of Gumbuya were pleased to be operating in such a collaborative region.
"Together we can achieve amazing things."
Ealier in the evening Gumbuya won the award for Tourism and Travel.
Gumbuya World boasts a state-of-the-art Wildlife Trail allowing visitors to experince more than 50 species of Australian wildlife. Oasis Springs has 12 thrilling water experiences and Outback Explorer offers 11 exciting rides for all ages.
"Whether it's spending endless hours in the water park, getting up-close and personal with wildlife, enjoying the rides and attractions or attending one of our many events, Gumbuya World has something for everyone," Mr Weinzierl said.
This year Gumbuya has undergone a major expansion as stage two takes shape.
As part of stage two Oasis Springs, the theme park's water world, will almost double in size. In addition to the new family wave pool, visitors will enjoy six brand new gigantic waterslides comprising two monster twister slides and thrilling four-lane rally race slides.
The expansion is part of a major redevelopment of Gumbuya World set to continue over the next three years.
When completed the theme park will offer 50 new attractions as well as a range of onsite accommodation, new cafes, shops, a chocolate factory and a microbrewery. It will also include Indigenous, dinosaur and woolshed precincts for educational programs.
By 2022, it is anticipated that Gumbuya World will attract a million visitors each year from around Australia and the globe – ensuring tourism remains strong in Victoria and the Casey-Cardinia region.
The judge was blown away by the "energy and enthusiasm around Gumbuya World's recent re-opening".
"The investors and management should be extremely proud of their achievements thus far and the plans they have in store for the future.
"A wide range of connections within the community and various tourism bodies really assists with aligning and achieving goals. Gumbuya World really is accessible for all and I look forward to what the future holds for your business."