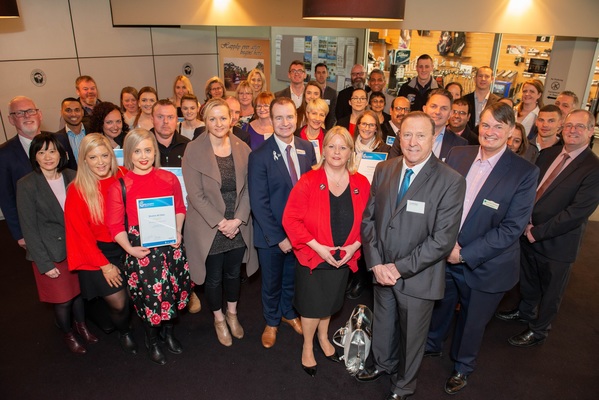 The finalists for the 2018 Casey Cardinia Business Awards have been revealed, with 26 local businesses in the running across the 10 categories for the region's flagship awards program.
The awards are a partnership between the City of Casey and Cardinia Shire Council, held each year to recognise and celebrate the outstanding achievements and contribution of businesses and organisations across the region.
City of Casey Mayor Cr Geoff Ablett congratulated the finalists at a special function held at the Cranbourne Golf Club on Friday 31 August.
"Through our regional partnership, Casey and Cardinia coordinate a range of programs and events that support our local business community, encourage professional development and foster shared learning," Mr Ablett said.
"Importantly these programs, including the CCBA, shine a light on the many successful businesses operating across the region.
"The CCBA give recognition to those who are excelling in their fields, celebrate local business success stories and provide another platform to come together and strengthen the economic viability of the region.
"Our local businesses provide invaluable local job opportunities for residents and expand the horizon for job seekers."
Cardinia Shire Mayor Cr Collin Ross said the judges had a tough task in selecting the finalists.
"This year there were more than 80 applications received and it was pleasing to see that many applications submitted were by businesses connecting with the program for the first time," Cr Ross said.
"The judges were impressed with the calibre of entries which reflects the diverse, thriving and quality business community that exists in this region – something we're incredibly proud to be able to celebrate through this awards program each year."
All finalists are also in the running for the coveted Casey Cardinia Business of the Year award, an award Cr Ross said created a fantastic morale boost for the winner.
"If you are business of the year people get very excited. I remember a couple of years ago at Cranbourne there was a whole group sitting on a table and they were amazingly excited. I'm sure when they went back to their workplace productivity went through the roof they were so excited about what they had achieved."
The 2018 Casey Cardinia Business Awards finalists are:
Business and Professional Services
• Successful Endeavours
• Ki Creative
• Melbourne Public Relations and Marketing Group
Health, Education and Well-being
• YMCA Casey
• Beaconsfield Dental
• Bfirm Personal Training
Home-based Business
• KoKayDee
• Sold By Group
• TravelManagers
Hospitality
• The Amazing Grace
• Settlers Run Golf and Country Club
• Brunch on McBride
Manufacturing
• Successful Endeavours
• IIL Australia
• Austbreck
New Business
• Ki Creative
• Evolve All Stars
• KoKayDee
Retail
• Davey Marine
• Berwick Auto Electrics and Mechanical
• In Beauty
Social Enterprise
• Waverley Industries
• Casey Basketball Association
Tourism
• Cranbourne Turf Club
• Safir Tours
• Exodus Travel Agency
Trades and Construction
• SJD Homes
• Laser Electrical Narre Warren North and
Laser Electrical Hallam
• Elite Building Services (Vic)
The winners will be announced at a gala dinner on Friday 26 October at the Cardinia Cultural Centre.
For more information and to purchase tickets to the Gala Dinner when they become available visit www.caseycardinia.com.au/businessawards.